INNOVV K2 FAQ
SD Card
How long will the SD card record for a cycle time?
---
K2 is loop recording on the SD card. And the cycle time is upto the SD Card size-
256GB - 19hours
128GB - 10hours
64GB - 5hours
32GB - 2.5hours
---
What is Max. size SD card the K2 can support?
---
256GB. It is not recommened as larger size SD card does not mean it has high speed data writing and read speed.
---
SD Card Guide and Formatting
---
Maximum of 256gb micro sd card can be used in the Innovv camera range. A Class 10 Minimum 80mb/s U3 is advised. Please be sure to use a reputable branded card as often cheap/fake cards will potentially not operate with your camera and cause problems.
INNOVV cameras require the SD card to be in Fat32 format. This is the standard format for 32gb cards or below, so these will operate straight away. 64gb to 256gb cards are generally in Exfat format and will require reformatting to Fat32. But don't worry this is a simple process.
– Insert the SD card into your DVR and power up (ensuring lens/lenses are connected)
– Connect you mobile device via Wifi to the DVR
– Access Innovv App
– Select Settings(Center Cog icon). At these stage you will generally be prompted that card is in incorrect format and asked if you would like to reformat. Select yes. If you are not prompted continue to settings page and select format SD card toward bottom of the page
Once completed the reformat please exit the App, forget the Innovv Wifi connection in mobile settings. Reconnect again and enter the App and you should be good to go and the unit will be recording
Looking after your SD Card.
SD cards do have a limited shelf life based upon the number of hours in total are recorded over time. Quality of cards do vary a lot. It is good practice for the health of your sd card to reformat (via App) on a regular basis. Also generally speaking the larger SD cards do last a lot longer as they store a lot more video data, so therefore do not loop/overwrite as regularly as the smaller cards.
---
Which situation needs to change the SD card?
---
Video recording is incomplete

Video cannot saved or view

The DVR could not read the 256G SD card

Althought we update the SD card according to the instruction, still could not update

While the mobile phone connected the K2 WIFI sucessfully, the warming "connect fail" come out
---
SD Card Formatter
---
Format 64GB or 128GB sd card to FAT32
INNOVV C5 & K2 only support 64GB or 128GB SD card in FAT32 format.
Windows can not format more than 32GB in Fat32.
EaseUS partition tool is the best FAT32 format tool to format SD card to FAT32.
Note: Formatting will delete all your data, please be sure to backup all your files before starting the job. ​
Partition Master Software Download and Install
Click Blow Icon to download Partition Master and follow the instruction to install in on your PC. https://www.dropbox.com/s/bjs7d1on2ve6nuq/SD%20Carder%20Formatter.exe?dl=0

Follow up below instruction to format SD card to FAT32

1. Connect SD card or USB flash drive to your computer, launch EaseUS partition tool, right-click the card you want to format and choose "Format partition".
2. A mini window pops out, on which you can edit the partition label and choose a file system such as FAT/FAT32, NTFS, EXT2/EXT3.
3. Click "Apply" to confirm to format your 64GB SD card/USB flash drive to FAT32 with ease. More details, you can click below link, https://www.easeus.com/partition-master/format-64gb-sd-card-to-fat32.html
---
---
App & WiFi
WiFi Connected but App Crash When Access Settings (Especially Samsung User)
---
Some phone WiFi connections are not stable, Follow below steps to do check. 1. Upgrade the latest firmware and APP Click website www.innovv.com – K2 Support, then you can get the latest firmware here.
Find the latest firmware and then download to your computer.
Use an SD card and then put this firmware on it, please make sure there is only one bin file with K2 on the SD card and there is no suffix (1) or (2) after the name of the file.
Put the SD card into the DVR slot and power it up, and the red light above the DVR starts flashing quickly. It will return to normal flicker status after about 10 seconds, indicating that the update was successful.
The video is for your reference.
https://www.dropbox.com/s/355vvchsjh6g4hr/INNOVV%20K2%20Firmware%20update%20%26%20LED%20flashes.MP4?dl=0
Then you can check the latest version APP on phone store, uninstall the old version and update the latest version.
2. Set phone to

airplane mode

, and enable WiFi connection only, reconnect WiFi and access setting again
3.Confirm whether the mobile phone location function is turned on or not, and make sure it is turned on during APP use
4. Refer the below photo to forget INNOVV K2 WiFi network, and re-input password and reconnect 5. Reset K2 system by reset button
The reset button is located next to the SD card slot, and when pressed, the DVR is turned off. When the power needs to be turned on again, the DVR reverts to its factory Settings.
---
WiFi Password Missed
---
Refresh the K2 firmware, you will get the default password 12345678 again.
---
WiFi Password Change
---
Make sure the K2 WIFI is connected => login the K2 APP => press the setting icon => the second row is "password" => Input the new password here. It should be 8 digitials, but only can recognize numbers & letter, or other symbol does not work.
---
App Can Not Work Without App Permission
---
App Permission App need to be trusted and is allowed to access location & storage. If not, App does not work.
---
Is the K2 App available for tablet computer?
---
Currently, the K2 App is design for the mobile phone, which is not support the tablet computer. It is compatible with some android tablets and iPad.
---
Can Not Connect the WiFi (Especially for the Android User)
---
Turn on the airplane mode of the phone, then connect the wifi again under this mode;

Please turn off the phone's data and try to connect;

Check again the location function of the phone, make sure this feature is enabled;

Forget the K2 wifi on the list of the phone, then input the password to connect again;

Upgrade the latest firmware and APP
If the above methods can not solve the problem, please contact the INNOVV after-sales solution.
---
Wifi Connected but App Could Not Access ("Connect fail" Pop Up)
---
1. Check the wifi LED light of the DVR
2. Check again the connection way of converter and DVR, please do not connect the red line together with the black line;
3. Switch two camera lens and then try to conncect again, please remember to tighten them with two thumb screws;
4. Unplug two camera lens, clean F&R slot, plug it one by one to the F slot and power on, see if the DVR can work
---
---
Installation
The Difference Between Front Camera and Rear Camera
---
Only difference between two cameras is the lenght of video cable.
---
Locate the GPS Module
---
GPS module should be expose to the sky, the logo side is up.
Hide GPS under seat affects the connection.
---
Installation Hints and Tips
---
Now its time to fully install the K2 system to your bike. Please refer to install hints and tips below. The install is pretty straight forward, just a few things to remember when planning location of DVR, Lenses and GPS Module.
Lens Cables – Be sure to plan the routing of the cables carefully to ensure that they are not damaged during or after full installation. Avoid the following
– Tight bends in the cables
– Direct heat
– Over tightening of any cable ties
Damage to a lens cable will effect the functioning of the DVR and is not covered by the warranty.
Avoid routing cables directly next to other electrical items such as TPMS. Whilst the K2 had passed EMI testing in the lab, if other items have weak interference protection this could create a problem.
DVR – It is very important to secure the DVR. The microphone is located within the DVR, movement will make for poor sound quality. Also the G Sensor is located within the DVR. If you are using the G Sensor feature you will lock down too many files and will have to delete these locked files on your computer or perform a card format on a very regular basis. If not the card will fill up and stop recording.
Lens Locations – Things to consider here. The lenses have a 120 degree angle so try to pick the best location to ensure a full field of view. The 'live' option on the App is a great tool as you can see live what the lenses are seeing and help you fine tune. Note that you can use either length lens cables as front/back, whichever suits your bike set up.
Lens Mounts – Secure the lenses well. Vibration will effect video quality. When deciding on lens location ensure that the lens/holder can be secured down well to limit vibration as best as possible.
The lens mount is available to adjust the lens angle by the screw as below picture.
GPS Module Location – The module needs to be located in an external location to ensure communication with a satellite. Ideally the module needs to be as close to horizontal as possible.We strongly suggest it is tested in desired location before securing.
---
Can the yellow wire & red wire from the converter join to battery?
---
No, Red wire is to the positive terminal of battery, the black is to the negative terminal, the yellow wire is to the ignition/switched power source. Yellow wire works to send commend to DVR in advance to save the last video before the power from red wire shut off.

---
Install Electrical Components
---
Let's talk about a scenario where you wish to upgrade, or add an electricity consuming component on your two-wheeler. You need to ensure that your electrical system is competent enough to do it successfully. This may mean upgrading some or all of your electric components, and the upgrades will differ on a case to case basis. ​ ​Here's what you need to keep in mind. UNDERSTANDING THE SPECIFICATIONS: ​ You need to read and understand the specs of the new electrical system first. For example, a new light system on your motorcycle will have a specific wattage and voltage. Here's what it would mean: ​ Wattage – A higher wattage rating for any specific type of lighting system would generally mean more power consumed and more light emitted. ​ Voltage – Higher the voltage of the system, the bigger the size of the battery required. You should always have a thorough look at your two-wheeler's manual to understand how much voltage can be supported. You need to ascertain how much load you can put on your electrical system without overburdening it. A good way to figure this out is through the manual. So if your two-wheeler dishes out 400 watts, figure out how much of it is consumed without adding anything extra. You will have to add up the consumption of the stock headlight, taillight, and every other stock electric component. Again, consult the manual for a definitive number on this. It's important to note here that the power output of 400 watts mentioned above is at a certain engine speed. When the bike is idling or doing lazy speeds, the output is generally lesser. Always factor that in. Once you have determined the total power consumption of the two-wheeler, you can subtract that number from our reference 400W number and see if the remaining output would be sufficient to power your new accessory. It is always good to keep a generous buffer here. The easiest way to connect a new accessory with your electrical system is to power it directly from the battery, wherein its negative terminal connects to the negative and positive to positive. However, the accessory would now draw battery directly from the battery, which means if you forget to shut the accessory off manually when the engine is turned off, it would drain your battery. This problem can be solved with a power distribution block, which blocks consumption if the ignition is not on. Another important aspect of an electric system is the fuse, which is meant to blow up to save the electrical system from a potential disaster when the current load increases to a dangerous level. So do not replace a fuse with one rated higher, as that would defeat the very purpose of its existence. Also ensure that there is a fuse in place for every new accessory, preferably closer to the power source. Most decent electrical accessories would come with a manual, with all the details required before installation. Ensure that you follow the specifications and instructions in the manual before installation. ​ We hope this quick beginner's guide on electrical systems for bikes was useful to you.
---
Motorcycle Dashcam Installation
---
Motorcycle dashcam installation Before Installation
Ensure you have a switched power source from motorcycle to use for the motorcycle dashcam power connection.
Locate a safe place to mount the camera(s), the DVR unit and the accessories if used.
Test fit the camera location(s) to make sure the camera cable will reach from video camera to the DVR.
Connecting a power source to the DVR unit
Please note, the motorcycle dashcam must only be connected to a switched power source. To ensure carefree long term use, the motorcycle dashcam must be connected to a fused and switched power source with a solid ground connection. A switched power source is one that has power only when the main vehicle ignition switch is on. The motorcycle camera can start/stop recording when the ignition is turned on/off. Use one of two types of switched power to the motorcycle dashcam DVR unit's power inlet port Connect to the DVR USB power port inlet using a USB cable connected to a 5 volt, 2.1A output USB port.Connect to the DVR USB power port inlet using the supplied 12 volt to 5 volt converter and USB connector to the DVR USB port.
If there is not an available switched 12 volt power source, you can make one by using a 12 volt relay, available at your auto parts store. Refer to the basic relay wiring diagram referenced in this instruction sheet. Always defer to the specific instructions included with your relay as some manufacturers may contain a different wiring schematic. Always use a proper fuse located as close as possible to the battery.
DVR Placement and DVR Accessory Installation
Hazard: Need to be sure if The DVR unit is weatherproof! Do not expose the unit to moisture or extreme heat/cold without protection.
To help ensure a solid connection to the DVR unit, use zip ties to secure the wiring.
Place the DVR unit in a safe and dry space, typically under the seat or behind a protected compartment housing area.
Some models may have a GPS unit and or a remote control button.
Locate a position that will expose the GPS unit to the sky. It will work under a thin cover such as thin leather. Ensure the speaker portion of the GPS unit has the clear protective wrap covering it, if not, use a weather resistant tape type of material and cover the speaker area. The rest of the unit is weather resistant. Clean the area where the unit is to be mounted using an alcohol pad. Remove the protective film from the adhesive strips to be used and firmly affix in place. Allow at least 24 hours for the adhesive to reach optimum holding power prior to use. Route the cables safely to the DVR unit ensuring there are no pinch points or exposure to high engine temperatures. Locate a safe position to mount the remote button. Ensure it will not interfere with the safe operation of the motorcycle. Position all wiring safely away from any pinch points and protect from areas of high temperature.
To install the camera(s)
Locate a position that will allow the best view.
Ensure the mount is secure and will not interfere with the operation of the vehicle. Consider the range of motion on the front forks of a motorcycle as well as the amount of vertical wheel travel. Remember that the front fork travel is substantial on most motorcycles.
The DVR has settings that will allow for switching the camera point of view for vertical adjustments. (Which way is UP)
The camera may be mounted in several positions using the provided machine thread holes in the camera casing. Ensure you do not over tighten as it may cause damage to the housing.
Route the camera cable in a safe manor back to the DVR location. Ensure the cables are not subjected to a pinch point or in an area that will expose it to high temperature from the engine.
---
CAN Bus System
---
Installing your camera system via the 12v/5v conveter will not interfere with your Can bus system. The current draw from the camera power unit is very small and will not interfere with the CAN bus system. Many Innovv systems have been installed to bikes with CAN bus systems without any issue. The pick up for the switched live source is generally the tail/rear light. However, if in the future want to add auxiliary lights, horns or other accessories or you do not want to connect the camera direct via switched live source you can look to install a CANbus controller. This makes a lot of sense as any future additions are quicker and easier to add and you will gain added functionality. Suggested CAN bus controllers are Volocan and DENALI, both offer similar functionalty. The Volocan product offers a lower price point and is perfect if you are looking at basic two wire lights. The Denali option is a smaller form factor (easier to find a home for) and offers plug and play integration of the DENALI range of lights and Soundbomb horns etc. For further techinical advise please contact Moto-Mate one of Innovv UK's authorised intsallers and CAN bus system experts. Moto-Mate Contact Details
---
Connecting Camera to Canbus Controller
---
We get a lot of questions from customers with CAN bus controllers fitted to their motorbikes that want to integrate an INNOVV camera system. But not sure how to connect these to the CAN bus controller. Irrespective of which CAN bus controller you have fitted, you are sure to either have a "spare port" or the ability to convert a CAN bus channel into a switched 12V supply via the user interface. The most common are DENALI and VOLOCAN. These two brands have different methods for adding accessories.
If you are using a DENALI controller you need to connect the controller to your laptop, switch the ignition on and open the web interface. Once the interface is open you simply select the "Single circuit override" for the CAN bus channel you wish to use. This turns the channel into a switched 12V live to power your accessories. See this screenshot: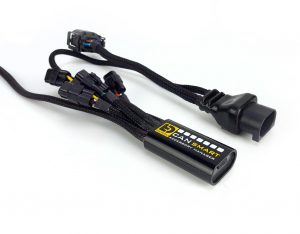 The VOLOCAN controller uses a range of DiP switches to configure the unit but has a dedicated spare port that can handle a current up to 10A load. This can be used to power any accessories. The spare port is enabled when the device powers on.
So how do I connect my INNOVV Camera to the CAN bus controller? INNOVV Cameras require a permanent battery connection and a switched live, the first thing to do is to connect the battery terminals, ensuring you have the correct polarity. Next is the switched live connection which goes to either the spare port or to the connector for the channel you want to use. Please note that several CAN bus controllers use their own specific connectors to connect to the channels. Depending on the brand a CAN bus controller can have specific connectors. Some controllers come with what are called "pig-tails". These are mating connectors with wires that you can use to connect to. Other controllers come with complete sealed leads with connectors on both ends. In this case you will need to cut the lead, insulate any wires you are not using. And then connect to the positive or if required positive and negative wires directly to the accessory. Ignition live trigger or power – which channel will you need to use? Depending what you are connecting to the controller may well dictate which channel you need to use based on the required current. If for instance you are connecting an INNOVV camera system, you only need a 12V trigger. So a low current rated channel (rear light) is fine to use.
---
---
Firmware
Specific Steps to Update Firmware
---
1. Find a link to the firmware version that needs to be updated from the website
2. Click the link to download it to your computer
3. Copy the bin file to an SD card in FAT32 format
4. The file name must be K2.bin and there can be no other names such as (1) or (2)
5. The firmware is automatically updated when the SD card is plugged into the DVR and powered on
Click on the video below to see how the LED on the DVR flashes during firmware updates. Watch the video now
---
SD Card Guide and Formatting
---
IINNOVV cameras require the SD card to be in Fat32 format.
This is the standard format for 32gb cards or below, so these will operate straight away.
64gb to 256gb cards are generally in Exfat format and will require reformatting to Fat32.
But don't worry this is a simple process.
– Insert the SD card into your DVR and power up (ensuring lens/lenses are connected)
– Connect you mobile device via Wifi to the DVR
– Access Innovv App
– Select Settings(Center Cog icon)
At these stage you will generally be prompted that card is in incorrect format and asked if you would like to reformat.
Select YES. If you are not prompted continue to settings page and select format SD card toward bottom of the page.
Once completed the reformat please exit the App, forget the Innovv Wifi connection in mobile settings.
Reconnect again and enter the App and you should be good to go and the unit will be recording.
Looking after your SD Card
SD cards do have a limited shelf life based upon the number of hours in total are recorded over time. Quality of cards do vary a lot. It is good practice for the health of your sd card to reformat (via App) on a regular basis. Also generally speaking the larger SD cards do last a lot longer as they store a lot more video data, so therefore do not loop/overwrite as regularly as the smaller cards.
---
The Latest Firmware Link to Download
---
Current K2 Customers
To ensure 100% smooth running,
keep your INNOVV K2 camera system fully up to speed with the latest Firmware and App editions.
Improvements/Changes
Add the function of turning the lens flip 180°. IMPORTANT NOTE – From V67 onwards default video file is TS format. Please check out point 12 below and select TS or MP4 within the App.

How to Check your Current Firmware/App Version

Access the INNOVV K2 App – Select Settings and scroll to the bottom of the page.

You will find your current firmware and App version here. Please see below example.
To update to latest firmware use download firmware guide below for step by step instructions.
It is advisable to also update the K2 App on your mobile device when updating the firmware.
Updating to the most recent App is simple – Just delete the current App from your phone and reinstall from your App Store, Google Play etc.
---
---
Video & Others
How to disapear the speed on the video?
---
Set speed display off on App setting. GPS location and Speed data are still available.
---
Video Waves
---
The vibration caused lens shaking and video waves. 1. Re-located the camera for less vibration. 2. Add rubber pad to mounts to absorb the vibration.
---
The Video Date is Shown as 2000/1/1
---
1. Connect the camera to phone, the video data will be snyc with phone automatically 2. After connecting to the APP, go to the live video screen, click pause and wait about 5 seconds, then click start recording again If still no change after above, the button battery inside DVR does not work, should be replaced.
---
How to change the video date & time?
---
Connect the camera to phone, the video data will be snyc with phone automatically. Change phone time, the date on video will be changed accordingly.
---
Video Sound Quality Not Good
---
A small mic hole on DVR that is to pick sounds. Do not block the mic hole and keep it open for better sound pickign up.
---
Too Many Files Have Lock Symbol
---
Those files with symbole were locked & protected. G-sensor triggled the file protection. Set G-sensor to bel low level, and fixed DVR without movement and vibration to reduce the protected files.
---
Can files in parking folder be deleted automatically?
---
No, it should be deleted manually. If not, SD card will be full and stop to save videp clips. Format SD card regularly is necessary.
---
Parked Folder
---
The K2 uses this folder not only for the parking function, but also for the crash detection by the G-Sensor. So everytime the G-Sensor detects a shock higher than the G-Sensor threshold, this video is saved in the "Park" folder. You can reduce the sensitivity of the G-Sensor or completely disable it to avoid videos get saved in the park folder. https://www.innovv.com/forum/innovv-k2/park-and-video-folder
---
How to judge the system working properly by indicator lights?
---
Green light flashes slowly(while with TF card);
Blue light flashes slowly (while un-connected to the phone app);
Orange light flashes slowly (while not un-connected to GPS);
Red light is off.
---
Play/Download the Videos
---
Now for the fun part, watching your video. There are several ways in which to review your video.
1) – Via the Innovv Wifi App on your Mobile Device
Select documents on the App home page you then have 2 choices ' Files in Camera' and 'Files in device'
Files in Camera – Once selected you will see a preview list of all files currently saved on the SD card that's inserted into the DVR. Select the file required and you can either delete, stream online or save. To stream on line you need to maintain the wifi connection with the DVR to watch the video. If you want to save your video and watch at a later time away from your bike select save. See below
Files in Device – Once you have saved the video file this is where you can review/watch the video without being connected to the Innovv Wifi. Video saved to here will not be over written by the DVR if set to loop record.
2) – Review Video on your Computer
Remove the Micro SD Card from your DVR, place into the SD Card Adapter and insert in to your computer or laptop. Open the external/flash drive that should auto populate and select the video file.
Download video files direct to your computer via a micro USB lead. Please note below
You will need to have the latest firmware version installed on your K2 DVR. A quality Micro USB will be required.
4. GPS Data/Split Screen Viewing/Dashcam/Dashcam Viewer
For advanced users who want to create split screen viewing, intergrating GPS data, Dashcam Viewer Software will be required.
Play your dashcam videos on the main screen while watching your vehicle's speed, distance,position, bearing, and shock-sensor data update on graphs, data displays, and maps."Geotag" points of interest along your route. Export these to a file. Or import them back in. Export your GPS tracks to common file formats such as comma-separated value (CSV), Google Earth KML, and GPS-exchange (GPX) for further data analysis. Export portions of videos to new clips.Combine multiple videos into a single video.
---
Should I select MP4 or TS video file format?
---
This is a personal choice. Please read and decide the best solution for your needs.
MP4 Files
Is one of the most common used video file formats and can generally be used with most/if not all media players and video editing software packages. Has no problem storing all GPS data collected via the K2. The weakness of MP4 is the potential of corrupted files if there is sudden or unexpected immediate power loss to the DVR. An example of the effect maybe in the event of an accident. If power is unexpectedly cut to the DVR the current file (1/3/5/10 mins) depending on loop setting selected maybe corrupted.
TS Files
Is not such a widely used file format. For general playback there is no problem with the majority of the most common media players. Editing video is a lot more limiting, in then main the majority of customers use a converter to another file format if editing is required.
TS files are a more robust file format. For example if there is a sudden or unexpected immediate power loss to the DVR no video footage is lost, video recording are saved to the exact time of the power loss.
---
Parking Mode
---
Parking mode is extra security when you are away from your motorcycle.
If your bike is hit, moved etc this movement will trigger the G Sensor and the unit will record for a number of seconds and then switch back off again.
Video files triggered by the G Sensor will appear with a padlock on them when viewed via the App or located in the Park Folder if viewing files on your computer.
For the Park Mode to be operational both this and the G Sensor need to be turned on via App settings
Please note that the Smart 12/5v converter monitors your battery level and controls the DVR.
Added indicator light
When the battery voltage is greater than 12.7V, the light is on, and the parking monitoring mode can be used normally;
When the battery voltage is less than 12.7V, the light does not light, and the parking monitoring mode cannot be used.
Other functions can be used normally in both cases
---
Smart 12/5v Converter - Bikes Battery Draw
---
When the bike is turned off the smart converter manages power to the DVR to ensure you experience no battery drain.
2mA when bikes battery voltage level is more than 12.7V (Converter Blue LED On)
0.08mA when bikes battery voltage is less than 12.7V. (Converter Blue Led Off)
Please note that when you battery drops below 12.7v, draw is reduced to 0.08mA. This is to protect the battery, but the Parking Mode feature will not function.
---
---
GPS
How to get the GPS work?
---
For the first time of connecting the GPS, it will take us about 2 minutes to connect.
Please keep the GPS face up, this will facilitate the reception of GPS signals.
---
Is GPS has the real-time location function?
---
K2's GPS is used for track playback and currently isn't available for real-time location.
---
How to check the GPS trip track?
---
iOS User
When the GPS connected successfully, the iOS user can check the trip track on video. Please click the red square icon to view the track on map.
Android User
When the GPS connected successfully, below red square icon will appears on the live video.
In order to view the GPS trip track, please download the video to the mobile phone and disconnect the the K2 Wifi.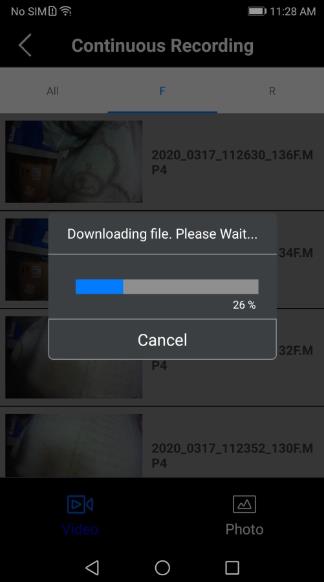 ---
---
Download & Quick Start
A Quick Start Guide for New K2 Customers
---
We want to make getting to know and using the INNOVV K2 system as easy and enjoyable as possible.
We suggest that you follow this quick start guide below and take a short while and view the videos below as they will be a great help before you install.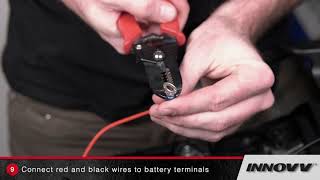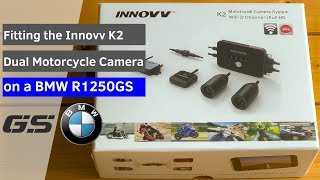 ---
Motorcycle Dashcam Maintenance Check
---
Motorcycle Dashcam Maintenance Check We are motorcycling, and understand Why do I need a motorcycle dash-cam? and What is the best motorcycle dashcam?, Motorcycle dashcam installation, We also need to know Motorcycle Dashcam maintenance, and why it is important. We are talking with riding people from worldwide everyday, two motorcyclists complained they purchased helmet cameras on eBay, found nothing recorded after so enjoyable ridding and all recordings were not playable after accident, both asked us if INNOVV Motorcycle camera can avoid such issues. I said yes if you can check and maintain the recording system regularly. We as motorcyclists should know the more care and maintenance you give a bike the longer it will last. Performing general maintenance on your motorcycle will also help you spot problems before they happen. Maintenance is not only an essential part of motorcycle ownership, it can make the difference between safe riding and getting stranded-- or worse, that is same to the recording system.
INNOVV motorcycle dashcam had passed critical vibration and tough riding condition test, but after a long running exposed to a number of stresses, these include large and rapid variations in temperature, humidity, sudden interruptions, instability and 'spikes' in the power supply and constant mechanical vibration, baking, accelerating, any of which can lead to faults that can result in the camera system can't function properly.
Carry out the below maintenance checks to can keep the motorcycle cameras in an optimum condition,
Micro SD card & format. 90% recording fault relates to Micro SD card. You spent good money to have the motorcycle camera, no reason to purchase a cheap & unqualified Micro SD card. And regularly formatting the SD memory card will alert you to any problems with the card or camera.
The connection between cables and DVR is tightly, be sure DVR and Cameras kept fixed on bike firmly.
DVR is dry enough and protected from dust, dirty.
Check Red, black wires to the battery terminal, Yellow wires to 12v switched power source in good connection and is well protected.
These checks is simple and easy to do, it allows you to spot any warning signs before they become a recording fault, enjoy ride and have fun.
---
Choosing Your SD Card
---
Choose your SD Card carefully. Please purchase a quality and branded SD card that is suitable for use in a dashcamera, to ensure you have no problems. We recommend Integral U3 Cards available in our shop as these are tried and tested. The K2 will take up to a 256gb card. You can expect appx the hours on chart below for each size card. 256GB - 19 Hours 128GB - 10 Hours 64GB - 5 Hours 32GB - 2.5 Hours We suggest not using Standard Sandisk SD cards for the Innovv camera systems for the reason below. Their High Endurance range of cards are suitable. 1. It is not suitable for loop dashcam video recording. 2. Sandisk warranty does not cover using for Dashcam use. Please see below statement from Sandisk. https://www.sandisk.com/about/legal/warranty/warranty-united-states Sandisk warranty does not cover use of the Product in connection with the following uses or devices (as determined by SanDisk): 1. normal wear and tear 2. video monitoring, security, and surveillance devices 3. internet protocol/network cameras 4. in-car recording devices/dashboard cameras/black box cameras.
---
How to Download K2 APP and Connect to it
---
Install the INNOVV K2 App Download the Innovv K2 App to your mobile device, iPad or tablet. Available from App Store or Google Play. You can search INNOVV K2 or use QR Scanner which on the package box. Min Requirements iOS 8.3 Android 7.0 Windows Phone Not Available Connect to the K2 APP
The blue light on INNOVV DVR will be steadily flashing.
Go to the settings on your mobile device, select the Innovv wifi and insert the code 12345678 (if you change the password it must be 8 digits).
Your mobile device will now be connected to the INNOVV DVR and you will get a solid blue light.
---
Pre-installation Test
---
Before full installation to your bike we advise that you familiarise yourself with the system, get to know and understand the basics and its operation. For it to fully operate you will need to connect up all items i.e Gps and both front and rear lenses. Ensure everything is tightened and connected properly and SD card is inserted before powering up the K2 system. Now you need to power up. You have 3 options : 1 – Fully connect the converter to your battery terminals(positive and negative) and yellow to a switched live. In line with full install guidelines 2 – Connect up black to your negative battery terminal and both the red and yellow to the positive. This will power the unit up for the purpose of testing only. For full install the yellow will require connecting to a switched live. 3 – Connect via mains power using a micro usb lead. A good quality micro USB lead (min 1A) will be required. Note the DVR will not function correctly (i.e Wifi will not function) if you connect via USB in a computer or laptop. Please note there will be a 10 second start delay (option 1 ) before the DVR fires up. So don't panic this is normal.
---
---